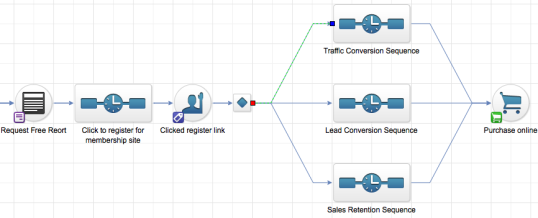 Infusionsoft has released some new reporting for the Campaign Builder.  Yes, this first version is fairly basic, but it's super important.
I was at Infusionsoft a few weeks meeting with the Product Management team giving feedback on the lead source tracking features they're building as well as the functionality of the new campaign builder (this part of their normal process of getting feedback from users to ensure they're building the right features).  They showed me some of their current ideas for reporting they're working on for the campaign builder in a few months.  I'm so jazzed about what's coming I can't stand it.
They also mentioned the basic Campaign Builder reporting that has just been released.  Let me walk you through a few screenshots.
First is a new column in the list of campaigns that will show the number of active contacts in a campaign.
When you click on that number, you get a list of those people. This is great if you want to send a broadcast, stop the campaign, tag them, etc.
You can filter that search down to people who are active/inactive, in a particular sequence within the campaign, and by tags. This is VERY cool.
On the contact record you'll be able to see each individual contact's activity within a campaign. This view will show you the campaign history (completed campaign steps) as well as upcoming campaign items.
This is a great step in the right direction. But, it's nothing compared to what I imagine Infusionsoft will build in the future.
Share